After my first games, my impression are negative. I get frustrated by the bugs. Gameplay is a sitz krieg (clicking end turn to progress, because there is nothing to do). I fight with game controls instead of content. W&W suffer also for "excell spreadsheet" syndrome - lots of text,
fractions numbers. Many thing have no graphic representation and are left to imagination - like followers position.
Menu graphic and icons are beautiful. Map hexes are ugly, yet they are perfectly readable, which is in today gaming market, a big +. Mouse scroll has hiccup, it don't work smooth. Right mouse click has no function. No key shorcuts for scroll map or activate top panels. Even esc do not close windows. There is button that instantly turn off the program - wtf?! Windows open too low, forcing me to move it up. Text at description is blur and cut off. There is very important button "Inspect" that looks grey out, as if its unavailable.
All game panels are glitched to the point of un-playability. Army panel: Very rarely recruitment work at all, usually I can not recruit troops. I clicking the buttons and nothing is adding to the queue, it stay empty. And when it works, I can not cancel or stop the process of ongoing recruitment! Split bar is not working. Insane long recruit time (20 turns for initial troops?). Economy panel need bar same as the one for army split. I'm not able to sell food. I can not afford to buy anything. Can not hire follower, mercenaries, not even increase amount of workers! Again sitz krieg. How to get gold income?
In 3 of my game after some times, I was not able to click end turn - rest of menus work good.
Battles are dull. Clicking continue 24 times and watching results. In my darkest calculus nightmares, I can not figure more boring representation of battles. Its surprising that You didn't put more attention in this aspect. Battles are main reason why players plays strategic games. Most 4X games has two layouts: strategic and battles where you see your general performance with recruiting troops, heros, choosing spells, research... im not saying its wrong decision, I even would say its good (long time i didnt see anything like turn based Warlords 3), but the execution is poor. And Warlords 3 Darklords Rising battle presentation is great. I wish your looks similar.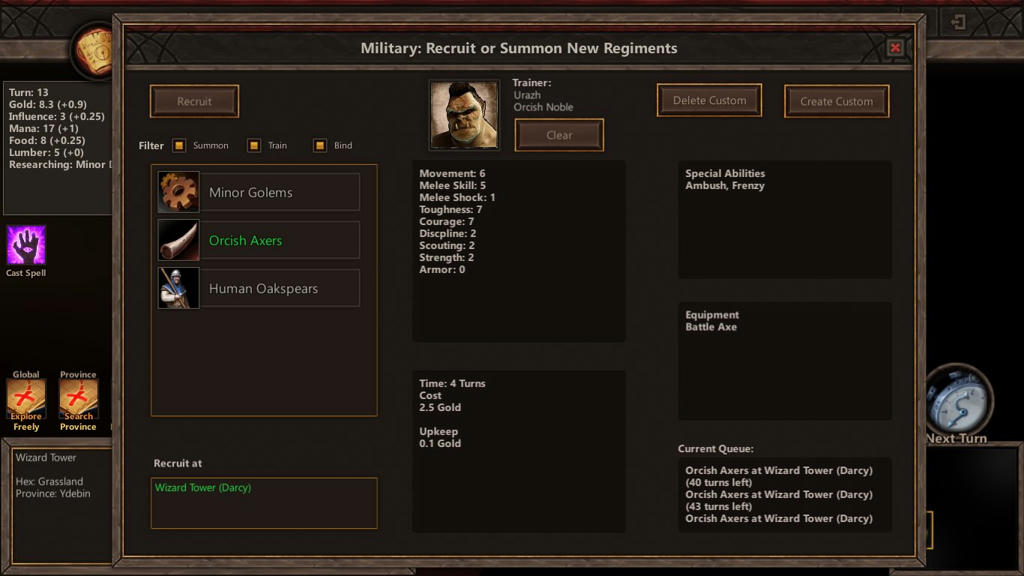 this follower has Train Troops trait. Where the hell this 40 turns time come from ?!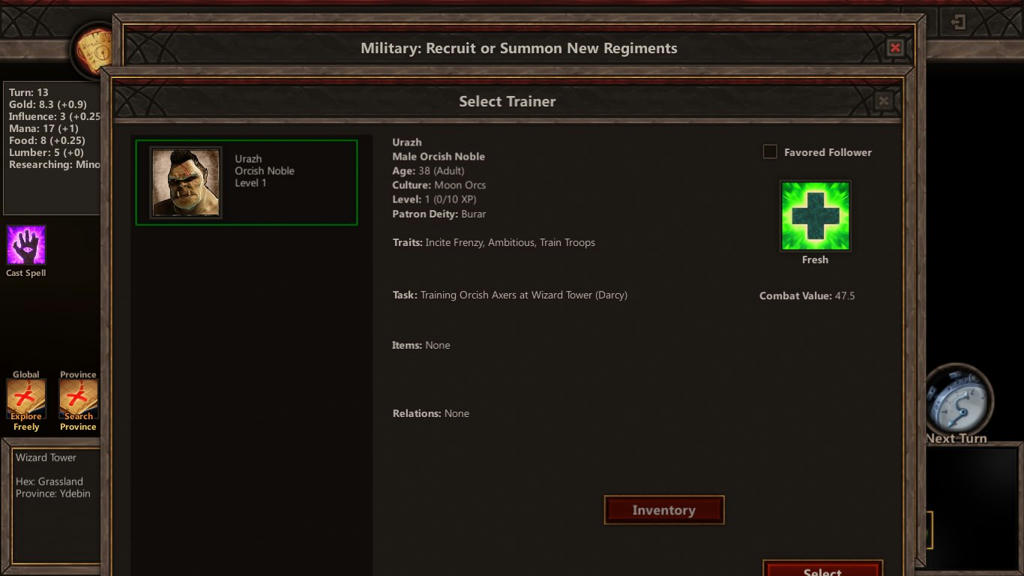 How to obtain spells? I have only dark sacrifice (useless), after 30 turn, I research some jeweler talisman. I have 80 mana, that I used solely to bind Mana nodes.
I can not see again old message.
=======
i have more remarks, but they are unimportant now, as the game basic's menus works make the game unplayable.
If I were game dev of W&W, my very, next step in building this game would be:
allow to cancel troop recruitment.
second rethink recruitment times - unless you have some already some idea about it, that Im not aware off - like tons of buff that hasten the recruit process (buildings, followers, spells).
third smoothing the process of building facilities(farms, loggings, vineyards, structure in tower) and managing workers - now its cumbersome. Also recruitment of workers in Economy panel, if there is separate Worker panel.
In general I think that you have lots of fresh ideas, and concepts that are very good, but Your implementation is faulty.
... or maybe i'm stupid and can not conceive this game fully - then I would suggest You to write tutorial.
Hope it help's